Name : Kurēn
Nickname:Atama
Gender : Male
Age :23
Appearance :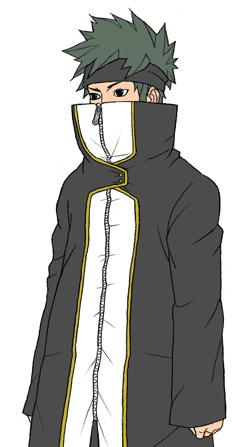 Personality :Quiet, calm and awkward Kurēn does his best to be social but as shown, is just bad at it. Keeping to himself at most moments, he is quite skilled as a shinobi and has gained much respect but can never seem to hold a conversation without creating a long awkward silence. Despite his anti-social problems, he has quite a strong sense of justice and has a caring smile which immediately attracted Kishi to him as her partner. As shown, he is quite stern on the battlefield, not much for conversation with his opponent and will quickly dispatch them. He has shown to truley get heated up in battle, when the opponent insults Kishi possibly proving his true feelings for her.
History :Kuren history is unknown.
Clan:He isn't apart of a clan.
Ninja Village:Kumogakure
Rank:Jounin
Number of mission taken:Unknown
Number of mission finished:Unknown
S rank missions:Unknown
A rank missions:Unknown
B rank missions:Unknown
C rank missions:Unknown
D rank missions:Unknown
Weapon Name:none
Weapon Looks:none
Weapon Command :none
Race:Human
Strenghts:Kurēn will skillfully gain information from his targets which lead to him gaining the name 'Atama. He has proved to use his opponents greatest fears, memories and emotions against them along with unique chakra control that allows him to use Mind techniques, rivaling that of the feared Yamanaka Clan of Konohagakure. Skilled at hand-to-hand fighting and close ranged Ninjutsu, Kurēn can easily dispatch large men than him with his techniques alone. Able to utilize special scrolls that assist him in combat, at close range they have shown to be quite devastating. Proven to be quite skilled at fighting with his fists, he will strike his opponents pressure points by utilizing Lightning Element chakra along his fists.Despite his unique methods of battle, Kurēn has shown to dabble in Medical ninjutsu. Shown to have an affinity for summoning techniques, he has shown to summon his signature spiders for battle. Ranging in sizes from small to large, they are black with golden markings along their backsides. He has shown to have complete control over them, and can turn them into simple pawns for his techniques.
Element:Lightning and War
Fighting stlye:Juijutsu and Taijustu.
Other Things:He talks to himself in thought alot.