A guild form and lead by Kai which has a hideout somewhere that hasn't been found in over 20 years. A guild with over four hundred eighty-seven members it is the largest guild to date, taking members beside wizards they take ninja,shinigami,contractors,branch of sin users and everything else.
The guild specializes in the destruction of guilds,towns and cities,assassination of other members,people and what not, it also known for human trafficking,rape of young men and women and the kidnapping of many famous people in the world. It is believe that Demon Scar try to kidnap Muron Konomi but took Shinya Konomi resulting in Katsuya coming and killing thirty of their members.
Guild Master:Kai Royarudo
Left Hand of the Guild master:Killious Devous Avalon
Right Hand of the Guild master:Nori Mashima
Lost Legion:A squad made by Gunha is form by him and ten other guild member while he has one of the larger squads the reason for that is half of his squad is made up of old legends from different who are force to work for him as they are his puppets and under his spell
Leader:Gunha
Second in command:Ren Kishimoto
Members:
Five S rank warriors
Five A rank worries
Legends:
Hanzo Kishimoto
Hondo Kishimoto
Ai Kishimoto
Kenji Kishimoto
Assault Squad :A huge squad with at least forty men in it or more it is lead by Souji everyone in this squad is known for their violet actions and their straight forward fighting abilities if there was no stronger group of fighters in Demon Scar it would be their striking force
Leader:Souji
Members:
Saben Kaguya
Gerd Canicus
Samuel Core
Adonis Hardwich
Averian Xava
Saben Kaguya
Matsuo Kishimoto
Rala Tremelay
Soga Amano
Sorcerer's Army:A group of 20 high ranking wizards all of who are loyal to Demon Scar. Sorcerer's Army follows Alicia and Orion two of the strongest wizard/mages in Demon Scar. This army is split always pairing up with two high ranking officers follow by an army of A to D rank wizards who they can use when ever they feel the need to.
Leader:Alicia Starglade
Second in command/partner to Alica:Orion 
Adiemus
S-ranks:The guild has 63 s rank members
A-ranks:The guild has 95 a rank members
B-rank:The guild has 250 b rank members
C and D rank:The rest of the guild is made up of C and D rank members who are new or weak or ranking up.
Guild Tattoo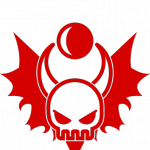 Guild Base
Spoiler: