Name :Mars
Nickname:God of war Mars
Gender :male
Age :Millions of years old
Appearance: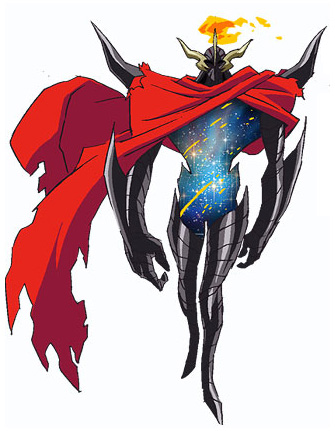 Personality:Mars once was a loving father who care for his family and his wife but that all , change. Becoming a man heartless God Mars does not care for who stands in his way as long as he gets what he wants, he will use his children,his wife or his friends it doesn't matter to him at all.
History :Mars appears for the first time against the Saints Of Athena during the temporary peace that followed after the Holy War of the twentieth century. Leading an army quite different from current Mars struck Earth and Athena, causing Sagittarius Seiya , Andromeda Shun , Dragon Shiryū , Cygnus Hyoga and Phoenix Ikki (Omega) raise to combat this new evil.
When the battle was about to be decided, a huge meteor fell on the battlefield, stopping fights. This meteor, as if attracted by Cosmo Burning stemmed the battle ended temporarily with the threat of Mars, and bringing with him two newborns: Koga and Aria . Athena managed to rescue only Kouga while Aria was taken by Mars.
Mars and his army resurface with a new power to attack Kido Saori (Omega) when Pegasus Kōga was still a baby. Porting a new armor, Mars and his army now dominated the Element Of Darkness , thanks to the meteor that ended the previous conflict. He is thwarted again and Seiya and the Bronze Saints . However, Mars could hurt Athena and their advocates with tags Dark, preventing them from burning his Cosmo .
Clan:Fumetsu
Rank: Memeber
Height:Unknown
Weight:Unknown
Weapon Name:
Weapon Looks:
Weapon Command :None
Weapon Abilities:
Race:gods
Strengths:Mars, unlike other God , leads his army at the front, also preferring to face stronger opponents directly in place of their subordinates, as seen fought Sagittarius Seiya several times. Mars is also able to control the element of Darkness. Mars fighting skills are on level higher than Seiya himself the strongest saint and the one who has battle many Gods. Besides being able to manipulate the element of Darkness, the god of war has the unique ability to inflict Dark Marks. These wounds spread through the body of the victim slowly, but can quickly consume the entire body to burn the victim Cosmo intensely. Because of this, the marks effectively prevent the victim fight with all his might, otherwise they run the risk of having the body completely taken by the darkness.
Mars is able to inflict these marks in different ways: from a direct attack against the opponent, or the opponent firing distance. The ability to inflict Brands Mars precluded enabled the Knights Legends, directly influencing the results of its third venture on Earth.
Fighting style: none
Other Things:Mars is one of the strongest Gods Seiya or anyone else has ever face.