Name: Kagaho
Saint Name:Bennu Kagaho
God:Hades
Rank: Celestial Star Specters
Personalty:Kagaho shows loneliness, sadism and rage in battle and determination.
Appearance: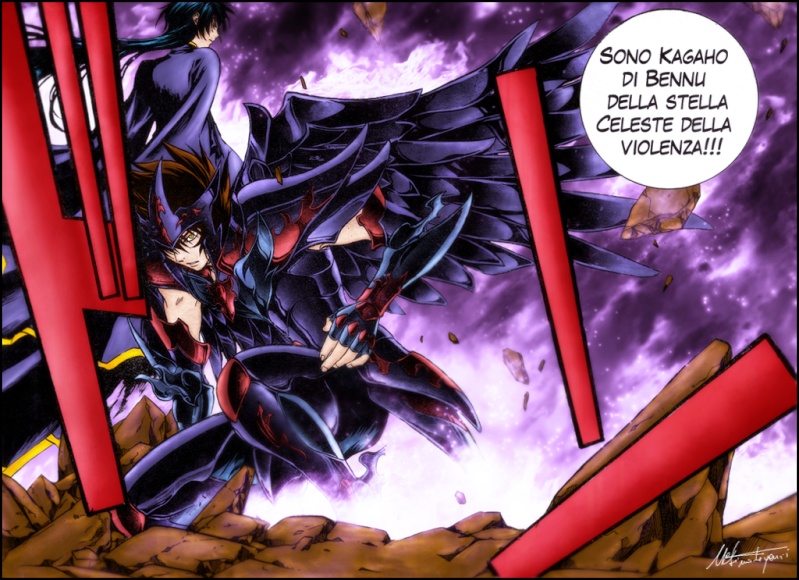 Saint History:He has a rivalry with Libra Dohko or any libra saint ,and memories of his dead younger brother Sui, who committed suicide because he felt he was a burden for Kagaho, who always ended up injured when protecting himKagaho reappeared right after Alone slaughtered his Skeletons, standing in Pandora's path as she tried to go on a pursuit after Hades' vessel. Bennu revealed that he was aware that their god was Alone all the time, and that his loyalty towards him remained despite this. Challenged by Pandora, he surprisingly allowed her to pass, stating he understood her desire of wanting to be reunited with her younger brother.Temple Terra :which was presented by an Ankh of black fire, in his words, the grave of his human feelings. Kagaho ensnared Regulus and Tenma with his Crucify Ankh, as well as Athena as she rushed to their aid. In the moment Kagaho was to take their lives, he was stopped by Libra Dohko. The Specter then prepared to engage Libra in battle to the end. After witnessing Dohko's upgrade in power because of having Athena's blood running through his veins, Bennu seeks to evaporate that blood from Libra's body, exhibiting a new technique,
Rising Darkness:Bennu is then confronted by Dohko, who reveals he has seen the Specter's true nature, and intends to bring it back. Kagaho explodes in anger, brutally attacking Dohko. The Libra Saint learns about Kagaho's brother after colliding with the Ankh, and then stops Bennu's attack. Kagaho is held by Dohko as the latter prepares to use his final technique, which would send them both flying to die in outer space. As they both leave the stratosphere, Kagaho admires the Sun while listening to Dohko's reasoning, and brings back memories from his past when he lived with Sui. The Specter's Cosmo and flames then change color, and an aura similar to the Phoenix Bronze Cloth's wings appear behind him, while Kagaho realizes the truth and has a change of heart. Kagaho reminisces about his motivations and loyalty towards Alone. At last, Kagaho burn into the skies becoming a Phoenix, vowing that, if given the chance, he will protect Alone and the Earth in another life.
Attacks :
Corona Blast : Kagaho creates an enormous sphere of fire similar to a star, then shoots it at his opponent. Kagaho is also seen using this technique consecutively.[3]
Crucify Ankh: Allows Kagaho to shoot many black fire stakes that enter into the body of the opponent and start burning him from the inside.[4] Then the black fire binds the opponent until the body is destroyed.[5]
Rising Darkness: Creates a small, black sun which raises the temperature similar to that of desert environments, dehydrating the victim.