Name: Sylphid
Saint Name:Basilisk Sylphid
God:Hades
Rank:Celestial Star Specters
Personalty:Evil and Loyal Sylphid is completely devoted to Rhadamanthys, the only man he never was able to defeat.Tull this day he carry's strong will and determination then all the specters.
Appearance: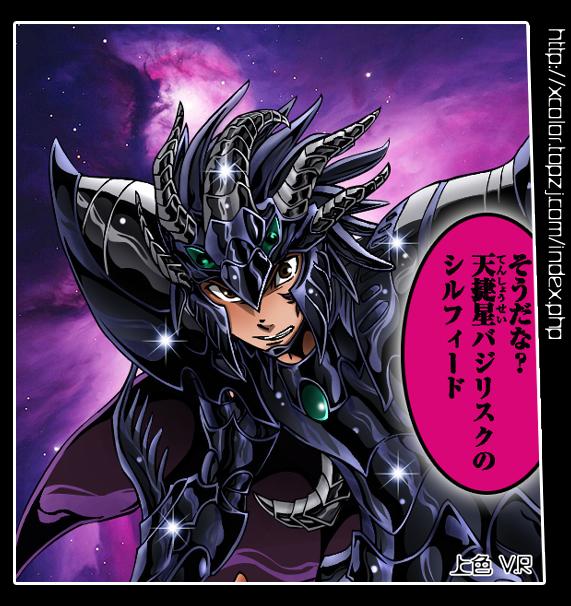 Saint History:Sylphid one of the strongest Specters. Successfully invading Sanctuary and witnessing Alraune Queen's defeat at Dohko's hand, Sylphid reveals himself with a mild gust of Basilisk-poisoned wind, sensing divine blood in Libra's veins, and vows to kill him, as he considers him unworthy of sharing Rhadamanthys' condition of divine blood carrier.After receiving news that the Underworld's infamous Wailing Wall had been pierced by Athena's Saints, Basilisk Sylphid and his companions quickly went to investigate the scene. As they approached the site, their presence alerted Bronze Saint Dragon Shiryu, who decided to stay behind and fight so that his companions had a chance to cross the cosmic river behind the Wall into Elysion.
Sylphid, Gordon, and Queen arrived to find that the reports were true. Paying Shiryu no mind, they attempted to chase the rest of the Saints, only to find that the Dragon refused to let them pass. With no other choice, Sylphid, Gordon, and Queen teamed up to ensure that the Saint was beaten quickly.
As Queen and Gordon worked over the Dragon Saint with their individual attacks, Sylphid waited patiently and, when the right opportunity came, struck down the Saint with his tremendously powerful Annihilation Flap technique. The move sent Shiryu slamming onto the undamaged section of the Wailing Wall. However, the Dragon survived and counterattacked with the "Rozan Ryu Hi Sho", a move that he hadn't utilized since his battle against Chrysaor Krishna (not counting the anime-only short fight against Gryphon Minos). The move sent Sylphid flying, and damaged pieces of his dark Basilisk Surplice.
Fuming with rage, Sylphid pulled himself up and retaliated with Gordon and Queen for a triple team attack. In a cucial moment of the bloody battle, Shiryu, rising his Cosmo to the highest limit, unleashed his sensei's signature technique -- "Rozan Hyaku Ryu Ha". Not even the might of all three Specters was enough to endure the sheer destructive power of this move. Queen and Gordon were killed immediately, while Sylphid was completely thrashed. The blast of the attack sent Shiryu hurling backwards into the cosmic river of the Wailing Wall, where fellow Bronze Saint Cygnus Hyoga anxiously waited for his friend to arrive.
Attacks
Annihilation Flap : Consists in a strong whirlwind coming from the wings of the Basilisk Surplice. It is powerful enought to hurl a Gold Saint into the air.
Poison Annihilation Flap :in The Lost Canvas, the Basilisk wind is poisonous, capable of paralyzing the victim's body and killing him. Only Wyvern Radamanthys was able to survive .