Name:Minos
Saint Name:Griffon Minos
God:Hades
Rank:3 Judge of Hell
Personalty:His most notable personality is his cruelty to anyone he comes across, comrade, partner, or foe he is cruel to everyone.  He is not the one to talk and remains quiet unless spoke to, he will never act out of order and will remain civilize at all situation unless he is in battle. Also he is very tricky, he will say anything to save his death and will even accuse someone else for his crimes. He is also the most feared resident of the Underworld.  
Appearance: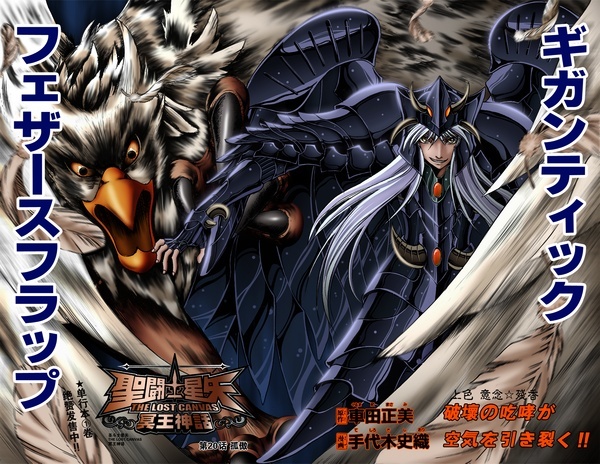 Saint History: Minos was a king of Crete, son of Zeus and Europa. Every year he made King Aegeus pick 7 men and 7 women to go to Daedalus' creation, the labyrinth, to be eaten by The Minotaur. After his death, Minos became a judge of the dead in Hades. Though after millenniums of boredom Minos decided to ask Lord Hades if he can return to the mortal world and Hades allowed him to do so, So he was incarnated into a human baby and thus Minos was born. Hades allowed him to be born with his unique powers and abilities as well as letting him free wheel the universe. Minos was for filled by his granted wish and began doing so by wrecking humanity apart. His true form remains in the Underworld still judging the damn though he himself is in a human form.
Attacks
Big Will: Because the Big Will is a spiritual force, each creation that derived from it had a soul. So it seems normal that we find ourselves capable of communicating with stars spiritually and also the fact that stars have an impact on our destiny is not far from the truth. While Humanity prospered in numbers, some powerful Gods decided they should reincarnate through Humans. In their Human form, they weren't able to [sense, awake] the Big Will in themselves at first. If the discovery of aura, or Cosmos, was achieved by controlling the 7th sense, to discover the Big Will in oneself was possible only by mastering the 8th and 9th senses. At first, three men succeeded in reaching awareness of the Big Will to completely reincarnate in their full power. They possessed great power like immortality and they named themselves Zeus, Hades and Poseidon. Considered as gods by the rest, each acquired and conquered his own territory.Zeus took earth and heaven, Poseidon was content with oceans and Hades got the dimensional plane where all souls go after death.  
Dunamis: Basically it's the ability to manipulate all matter on an atomic scale. Its how the Primordial Gods manipulated the universe to their liking. Even the Titans can create their own Pocket Universe and manipulate everything in it. For example a Planet was reduced in size through the use of Dunamis.
Wings of Hell:Minos the air rises and moves the wings of his surplice. The beating wings of the Griffin Surplice exudes a cosmic high concentration to form a hurricane. This expands to explode into pure energy in a place devastated the frightening attack.
Cosmic Marionette : Minos uses the cosmos to create very fine and solid power cords, almost invisible, clinging to the arms and legs of the enemy, these allow Minos keep the body of his opponent difficult to control and manipulate their movements at will, as a mere marionette, bending and distorting what you want in a grotesque and frightening display of sadism. Minos can present to his opponent to a cruel torture extreme fácildade causing fractures to manage the wire, even death, can break the members with a simple touch of a finger and keep it in levitation.