God Name:Thanatos
God:Hades
Rank:God Of Death { Hades Left hand Man }
Appearance: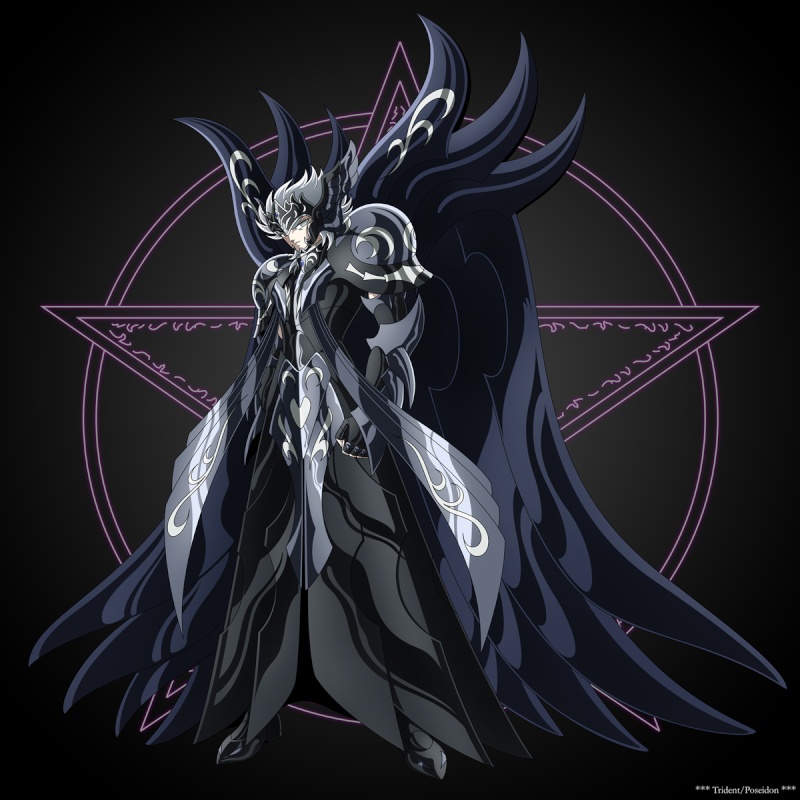 Saint History:
Thanatos, as he appears in the anime adaptation.As shown by Masami Kurumada, Thanatos seemingly doesn't need a human body as a vessel for his soul. When he was freed by the infant Pandora, Thanatos' soul emerged from the box, and didn't materialize, it stayed ethereal. Even so, he seems to possess a physical body of his own, in the same way as Athena or Hades, and the ability to materialize, as the Bronze Saints were able to hurt him physically with their attacks.In Saint Seiya: The Lost Canvas, Thanatos and his brother Hypnos possess physical bodies. They first appear as human priests with tangible bodies. Thanatos later fights Cancer Deathmask's incarnation in the 18th century, Cancer Manigoldo, who is able to destroy the deity's body so his soul can be sealed by his master Sage.Thanatos and his brother Hypnos have assisted Hades since the ages of myth, and have fought Athena in several occasions, centuries apart. So far, Kurumada has revealed that Thanatos has fought Athena in the ages of myth, in the 18th century and in the 20th century.
Attacks
Death Sight:
Simply By looking at soemthing in the eye for a long period of time starts to die used on animal and Bronze saints in lost canvas
Terrible Providence: concentrates its Thanatos cosmos releasing it into the hands against the opponent as a dense ball of energy capable of breaking the dimensional planes.This takes gigantic proportions and explodes to the touch in a devastating attack could break ground on the armor of their opponents.You can even destroy the golden armor of Sagittarius, Aquarius, Libra, Leo and Virgo (In The Lost Canvas nearly destroys the armor of cancer leaving her shattered). Thanatos can use their power years real-world lights.
Gate of Hell : Strike the Death God uses in The Lost Canvas Manigold against Cancer and its master Sage. Thanatos opens a crack that leads to a dimension inhabited by humans or any life, because everything that falls in this dimension is totally trashed, unless you have a divine or divine protection.
Phobia of Tartarus : The Tartarus is the deepest layer of hell.Here lie only the most cruel and souls so that some can pay for what they did. It is a horrible place of extreme punishment and suffering. The souls are sent to Tartarus at the behest of his own Thanatos. In this technique, he casts many souls in Tartarus, discharging their pain and agony in the designated target for the God of Death.These souls are attacking the opponent's body and slowly taking her soul. When the opponent dies, his soul spends eternity in Tartarus.
AVATAR : you can use both the Lost Canvas and Original one