Name :Tia Harribel
Gender :Female
Appearance :
Personality :In contrast to the majority of her fellow Espada, Harribel is calm, taciturn, level-headed and analytical, preferring not to engage in combat; she is content with silently observing both parties until the fighting reaches its conclusion, and refuses to fight unless she or her Fracción are challenged or ordered by her superiors (excluding Baraggan, sharing her history with him). She strongly opposes the notion of killing others, especially if done to gain power. However, when she is betrayed by Aizen, Harribel angrily attacks him, showing that, while rare, Harribel can be quite aggressive and brutal. Unlike most of her comrades, Harribel does care for her Fracción, as she is noticeably upset when she senses their presences fading and angrily assaults Hitsugaya seconds after their defeat at the hands of Captain-Commander Yamamoto.
She views Aizen and his powers in high regard, which appears to be reciprocated by Aizen to a certain extent, as he seems unconcerned with the prospect of his top three Espada fighting a numerically-superior force led by six Shinigami captains without his aid. Whenever she is present, Aizen usually greets the group with words such as "ladies and gentlemen of the Espada" or "brothers and sisters", presumably for her exclusive benefit, as she is the only female.
Harribel's gender and associated rank in the Espada occasionally draws the unwanted attention of other people; Nnoitra Gilga attempts to provoke her into attacking him with a sharply-worded comment during the Espada meeting. She also catches the eye of Captain Shunsui Kyōraku, to the point of him mentioning his (rather positive) opinion of her abilities to his opponent.
History :Prior to becoming an Arrancar, Harribel was a near-humanoid shark-like Vasto Lorde-class Menos. Some time ago she saved a female Adjuchas-class Hollow, Emilou Apacci, from another, male Adjuchas. Harribel took her back to her lair, where she introduced her to two other female Adjuchas, Cyan Sung-Sun and Franceska Mila Rose, as a new comrade. After Harribel broke up a small altercation between the other three Hollows, she explained that as female Hollows tend to be easy prey for the male ones, she brought Apacci and the other two Hollows there as she thought they would be better if they worked as a group, rather than working alone. They later fought a Hollow who fled, Harribel having allowed him to get away. When they decided to rest, Apacci asked her why they should allow him to escape instead of devouring him. She explained the law of Las Noches and asked Harribel why she doesn't follow it. Harribel explained that she didn't want to become stronger by devouring and sacrificing others. She resolved that if she couldn't win alone she would win in a group. At some point Harribel and her group came face to face with the King of Hueco Mundo, Baraggan Louisenbairn and his court. The two revealed they had previous dealings with each other and upon meeting again Baraggan made note that he was tired of her rebellious attitude. He gave her a choice: either join his army or run off to an area he could not see, noting that there is no place in Las Noches he couldn't see. One of his servants attempted to persuade Harribel but ended up receiving a slash to his Hollow mask for his trouble, for which Baraggan scolded her for being so bold, but allowed her to leave unharmed
Sometime later the group is attacked in their lair by a stranger. Harribel, who remembered him as the Hollow she attacked at her confrontation with Baraggan and his court, tried to fend him off. He proved his reiatsu to have been stronger than a Vasto Lorde-class Hollow such as Harribel and he quickly gained the upper hand. Harribel refused to give up and asked her subordinates to run away. Though they complied at first, they eventually came back as they resolved to die fighting for Harribel. The assailant quickly defeated the Adjuchas Hollows and then took out Harribel. He then stated his intention to kill her and join the upper ranks of Hueco Mundo. They were interrupted by the arrival of Sōsuke Aizen, who blocked the attack and stated that such power was only natural for an Arrancar as he dispatched him personally. He then noted that the power of sacrifice allowed for many impossible things and apologized to Harribel stating that he gave the assailant Arrancar powers, but not a brain to control it. He then explained the concept of the sacrifice and asked Harribel to join him if she wanted to be strong enough to protect her subordinates.
Reiatsu Color:Blue
Clan :Espada
Rank :3rd
Resurreccion Information
Zanpakutou Name :Tiburón
Zanpakutou Command :Destroy
Zanpakutou Sealed form: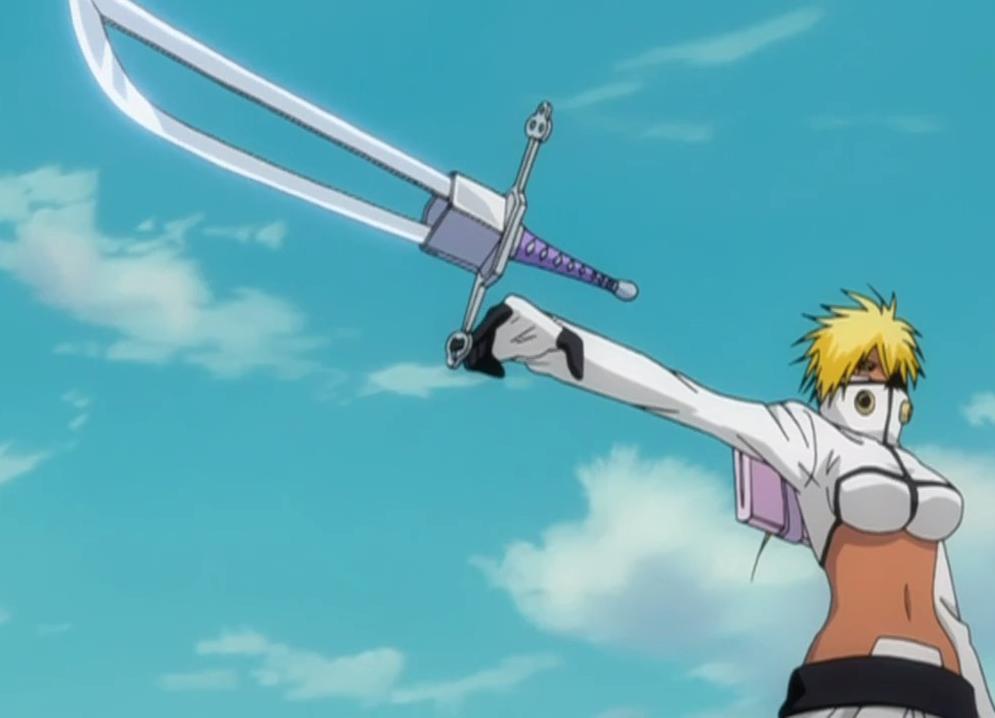 Resurrecion Appearance :
Resurrecion Abilities : In this form, Harribel's speed and strength increase immensely.Water Manipulation: Her primary ability in this form is the creation and manipulation of water. The water used for her attacks is generated by the gill-markings on her blade.
Trident:A technique that causes her sword to glow with spiritual energy and then allows Harribel to fire a high-force mist from her sword in a series of three shots. Upon contact, it can cause severe damage, capable of cutting an opponent in half with ease
Hirviendo:Harribel points her blade out and instantly boils any form of water that comes close to it, including ice, and deflects it around her.
La Gota: Harribel is able to condense large amounts of water around her blade before firing it as a blast that resembles a shark tooth. She has also demonstrated the ability to fire multiple blasts in rapid succession with relative ease. The blasts strike with enough force to demolish houses.
Cascada:Harribel launches a rushing surge of water at her enemy. The torrent of high pressure water is large enough to cover several town blocks.
Other things:Like other things that you didn't say
Specialty:Master Swordsmanship Specialist: Harribel has demonstrated tremendous skill in swordsmanship, being able to fight on even grounds with Hitsugaya, a captain-level Shinigami as well as a famous prodigy of swordsmanship. Harribel is ambidextrous and can switch her sword from her right to left. She is even capable of defending herself from a Shinigami captain and two Visored simultaneously.
Immense Spiritual Power: Even before becoming an Arrancar, Tier Harribel demonstrated tremendous spiritual power. As an Arrancar and one of the top four members of the Espada, Harribel is forbidden to release her Zanpakutō while inside the dome of Las Noches. If she were to do so, her immense spiritual power would be enough to demolish the fortress. Her spiritual power is yellow.
As an Arrancar and one of the top four members of the Espada, Harribel is forbidden to release her Zanpakutō while inside the dome of Las Noches. If she were to do so, her immense spiritual power would be enough to demolish the fortress. Her spiritual power is yellow. Her keen intellect and intuition is later seen in the initial fight with Hitsugaya, being able to see through his icy demeanor and identify his concern for his Lieutenant. She was able to sense a small wavering in Hitsugaya's Spiritual Pressure after the arrival of Hinamori concerned him.
Master Tactician: Harribel was able to hold her own in a fight against Hitsugaya, who used abilities counter to her own, taking advantage of his attacks for her own purposes
Cero: Harribel has been shown to charge her Cero using her sword and being able to fire it in a very wide ranging form, following the arc of her sword swing.
Sonído Master: Harribel has demonstrated incredible speed in battle, initially able to outmaneuver Hitsugaya to the point of forcing him almost completely on the defensive.