Name: Kosaku Yoshikage Kira
Age:33
Gender:Male
Appearance: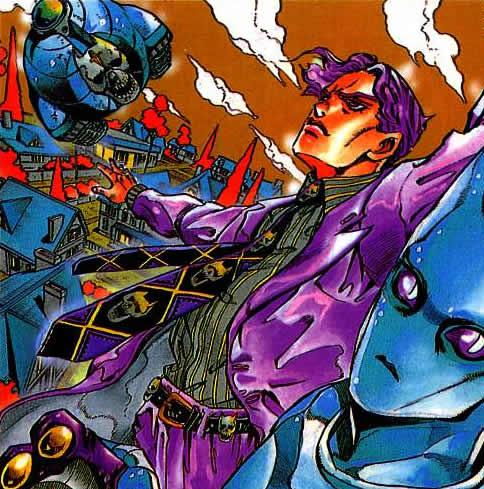 Personality:Kira longs for a simple life and does not wish for it to be interrupted. Although he reveals many talents, this yearning shows in his dislike of coming in first, and he even made it a point to never rank better than 3rd in any competition so as not to stand out. He even pulls this streak of third places quite easily, winning 3rd place in primary school essay contests, the school track and field championship, the 200-meter hurdles, and high school music competitions (violin). He becomes bothered when someone disrupts his "simplicity" and goes to extreme lengths to get it back.
However, beneath his facade of simplicity, Kira is very abnormal. The most abnormal characteristic of Kira his fetish for the female hand, stemming from an erotic fascination with the hands of the Mona Lisa. However, his desire has never extended to the rest of the female person; in fact, when on a normal date, all he could think about was how much he wanted to go home. This results in murdering women in order to acquire their (severed) hands as "girlfriends"; when one "girlfriend" begins to decay, he goes off in search of a replacement. He measures and collects his own fingernail clippings, using them to divine his murdering luck off of their length. Kira doesn't care if his victims are good or bad people, as such he doesn't have any sense of justice. As his father pointed out, as a child, if bullied or denied his favorite toy, he would bite his nails until they bled when he was frustrated or desperate, this stems from him not wanting to draw attention to himself, he would continue this habit into his adulthood.
When Kira was pierced with the Arrow, his demeanor was much more relaxed & prone to elation due to his new-found power, since his plans were to be uninterrupted, giving him the peace he so desired.
History:Kira is a serial killer who originally murdered his victims by stabbing them so viciously they were left with horrific back wounds (their hideous nature is implied by the fact that the reader is never actually shown Reimi's wound despite all the instances of blood and gore that Araki had drawn up to that point). His first victim was Reimi Sugimoto and her entire family, including the dog Arnold. However, his stand, Killer Queen, eventually awoke from his desire to leave no evidence behind of his killings and developed an ability to make its victims disintegrate completely. He now lets Killer Queen annihilate his victims (except for his "girlfriends'" hands), letting everyone else think that the victims have simply gone missing. Though the number of missing people would eventually attract attention, no one would have any reason to suspect that Kira was involved due to his simplicity.
Abilities:Sheer Heart Attack
Weakness:having withstood countless blows from Jotaro's Star Platinum without a scratch. It has no weaknesses.Its the perfect attack
Stand Information
Stand Name:Killer Queen
Stand Appearance:
Stand Abilities:Killer Queen's abilities mostly involve explosions. Its primary bombs are actually booby traps, it touches a cohesive object (doorknobs, coins, even living bodies) and charges it. When someone touches it, the energy will be conducted into it, creating an internal explosion that completely disintegrates the target. On occasion, it will charge an object not to conduct explosive energy, but simply to explode when Kira finds the time to be right. By carrying Stray Cat in an opening in its stomach, it can utilize its control over air and produce invisible air bombs. Although even Kira can not see the bomb, he is skilled in determining its trajectory using basic mathematical skills.Late in the story, Yoshihiro Kira's stand-creating Arrow pierces Yoshikage Kira's body a second time and grants Killer Queen a tertiary bomb. This bomb is actually a distinct, miniaturized form of Killer Queen, which normally stays with someone who knows Kira's secrets – most notably Hayato. If someone tries to interrogate that person about Kira, the tertiary bomb will enter their field of vision, get into their eye that way, and induce an explosion. Until Kira finds out who the bomb killed, he lets a brief temporal loop occur to one hour or day earlier. Even if the victim doesn't ask questions this time around, Bite the Dust will still kill them. Only if Kira is confident about who died will he let time flow normally. Still, if he has to protect himself right away (he can't maintain more than one potential bomb at a time), he will dispel the bomb. In all three cases, internal explosions can potentially completely disintegrate the victim. It is possible that Bites the Dust has some precognitive powers, as when Rohan used his Heaven's Door in Hayato he saw things that still didn't happen.
Hayato has added that Bites the Dust only works on non-stand users, such that Kira can only tell a non-stand user his secrets to enable the ability
Destructive Power: A
Speed: C
Range: A
Durability: A
Precision: E
Developmental Potential:A