Name:Kars
Age:102,000 years old
Gender:Male
Appearance: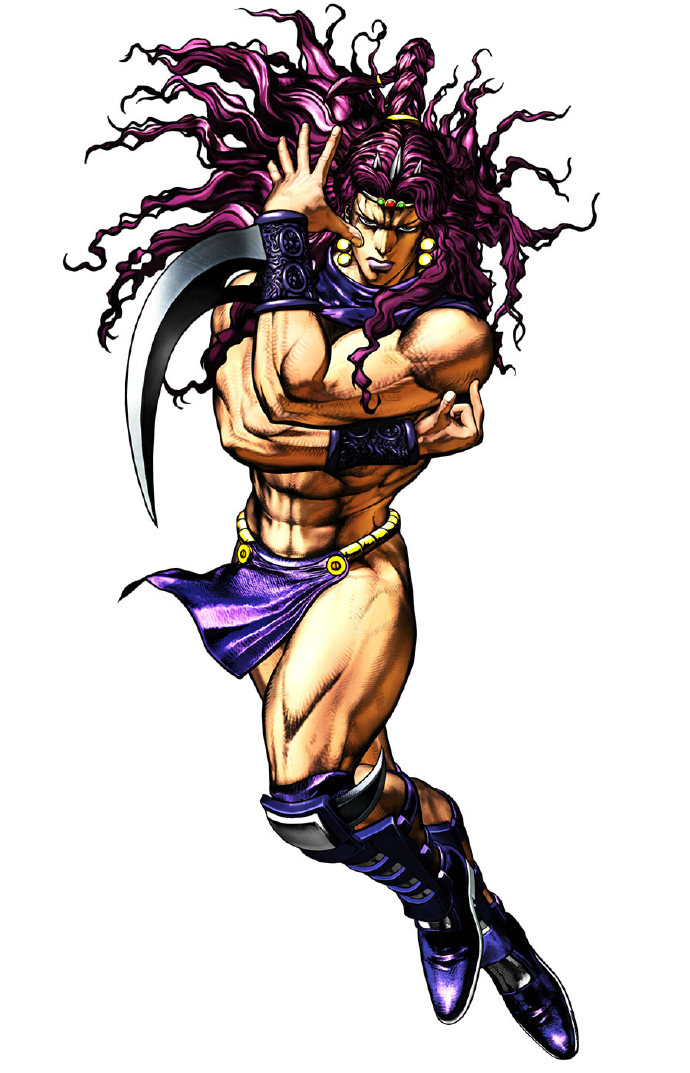 Personality:Kars is intelligent, ruthless, and single-minded in his dedication to obtain the Red Stone of Aja. He was stated to have been a genius among the Pillar Men, having been the original creator of the stone masks. Kars also seems to have respect for nature and animals as seen when he killed a drunk driver who almost hit a puppy and when he fell off a cliff he deflected his body to avoid falling on a flower.
History:Kars was around during the brink of evolution where the people lived underground and strived off the essence of all living things at the same time, failing to reproduce since they had such a long and worthy lifespan.
Frustrated by their ignorance of perfection, Kars wanted the beings to find a way to "tame the sun" and leave the underground to become perfect. In time, Kars created the stone masks in order for his race to become immune to the effects of the sun, and proceeded to kidnap humans in order to test the effects of the stone masks. However, the masks that he created, while capable of turning humans into vampires, were unable to penetrate the skulls of his race. Eventually, his race began to fear him for his obsession and sought to execute him. Kars was shown protesting their actions before being forced to slaughter the race of Pillar Men himself, including his own parents. Along with Esidisi, he took two children who were presumably the Pillar Men to be known as Santana and Wamuu.
Sometime between his formation of his group of Pillar Men and the beginning of his millenia of rest, he and his comrades would travel to Rome and fight a battle with the ripple users that would end in their victory; how they ended up resting in the wall is unknown.
Abilities
Light Mode:Kars' power is that of light - he is able to produce bladed appendages from his arms and legs and use these to reflect blinding light toward his enemies. The light comes from the tiny, shark teeth-like claws running along the edge of the blade much like a chainsaw. It is from the reflections of these claws that gives Kars's Light Blades their shining intensity. In this mode, Kar's sabers are sharp enough to cut through most objects, including an automobile and several bullets at blinding speeds.
Bodily Manipulation:As with the other Pillar Men, Kars also has the same body manipulation capabilities shared by his companions. When he gains the power of the Red Stone, Kars's bodily manipulation abilities are enhanced to the genetic level, to the point where he is capable of reactive evolution. Kars was also shown to be able to mutate parts of his body into various living creatures and control them accordingly whilst in his ultimate form.
Ultimate Form Abilities:As the Ultimate Life form, Kars becomes an immortal being and his body cannot age. He acquires multiple abilities and skills such as: an IQ 400, being able to sense the heat and air pressure, superhuman strength (900kg/cm2), can heal any wound in a short period of time, can reconstruct his entire body on a cellular level to transform into any lifeform, his vision is comparable to an Astronomical Telescope, Kars's cells store the DNA of every lifeform, he's able to hear ultrasonic sound (from bat's echolocation to
Hamon: In his Ultimate Form, Kars is shown using the Hamon. This Hamon is shown to be hundreds of times stronger than Joseph's Hamon, able to melt human flesh and according to Stroheim, comparable to the intensity of the Sun itself.
Ultimate Form: