Name :Sakazuki
Nickname:Akainu
Gender :Male
Age :55
Birthday:August 16th
Appearance :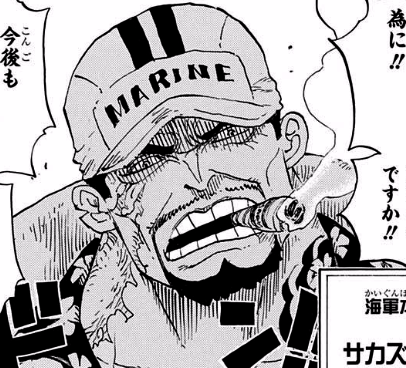 Personality :Akainu is an adamant believer in 
Absolute Justice
, and is ruthless in his maintenance of it; his motto is "Thorough Justice" He has a stern, dead-serious disposition, grim, expressionless, and was the most ruthless out of all three 
admirals
 two years ago. Despite this disposition, like 
Eustass Kid
, Akainu seems to be able to restrain himself at times, having chosen to spare the life of 
Jewelry Bonney
 and her crew after they were left by the 
Blackbeard Pirates
 for Akainu to salvage, and letting his colleague Aokiji live despite the Aoikiji losing to him after a 10 day duel to the death for the position of 
fleet admiral
.
Akainu's beliefs led him to go as far as destroying a refugee ship simply because of the miniscule possibility that a scholar could be hiding on board. His logic being that if even one of the scholars of Ohara had escaped with it, the mission would have been a failure, much to the dismay of 
Kuzan
, who called him a fool for overdoing things. Akainu's beliefs led him to go as far as destroying a refugee ship simply because of the miniscule possibility that a scholar could be hiding on board. His logic being that if even one of the scholars of Ohara had escaped with it, the mission would have been a failure, much to the dismay of 
Kuzan
, who called him a fool for overdoing things.
Additionally, he has no tolerance for Marines who desert their posts, even appeals of wanting to return to families instead of dying do not sway elicit sympathy, the only consolation he does offer is that they should not dishonor their families by running away. 
Caesar Clown
 also believed that Akainu would desire his ideas of mass-murder weapons and inhumane experimentation on prisoners, in contrast to the more pragmatic 
Sengoku
.  To Akainu, any Marine who is not willing to fight for justice is not worthy of being called a Marine. Again though, despite all of this, even Akainu could not kill his former compatriot Kuzan.
Despite his position as an admiral prior to promotion, Akainu is willing to lie to and/or deceive his enemies in order to achieve Justice. So far, Akainu's manipulations have been incredibly successful, such as when he managed to deceive 
Squard
 through 
Sengoku's
 master strategy, or insulting 
Whitebeard
 to get 
Ace
 angry enough to stop his attempt at escape. He finds people who attempt to interfere with him as nothing more than irritating obstacles. Furthermore, he seems in many ways unafraid of older legends and comments on this when Whitebeard claims to his men not to be intimidated by 
Garp
, while Akainu says that he and Garp are of the same generation and promptly attacks him. While other Marines, such as Sengoku and Garp, share a decent amount of respect for their enemies, Akainu has no such empathy, instead disparaging them at every chance he gets.
Prior to Sengoku making it public, Akainu is one of the few who knew that 
Luffy
 was 
Dragon's
 son. It is unknown if he has some past relationship with Dragon or if it was simply common knowledge among the higher ranking Marines that Dragon is Garp's son. As such, Akainu deems that Luffy's mere existence, due to being Dragon's son, is enough to be a threat to the world and therefore must be eliminated.
In fact, Akainu's beliefs about heritage run deep enough that he declares that even if every other pirate escapes, he would personally ensure that neither Ace nor Luffy were allowed to leave the war alive due to their bloodlines. This conviction fueled Akainu even to the point of actively hunting Luffy himself, even though Blackbeard was destroying 
Marineford
 at the time.
History :At the age of 23, Sakazuki joined the Marines alongside a 26 years old Borsalino, and came under the tutelage of instructor 
Zephyr
. The two were already considered "monsters.  When the Marines learned that the 
Roger Pirates
 and the 
Golden Lion Pirates
 were about to battle in the Edd War, three years before the death of the Pirate King, Akainu was seen in the Marineford, walking with Garp, Kuzan, Saul and 
Tsuru
, listening to the conversation about Garp's efforts to capture Gol D. Roger.
Ohara Incident
He was known as Vice Admiral Sakazuki before his promotion. He was present at the 
Ohara
 incident, being one of the five vice admirals leading the 
Buster Call
 bombardment. He ordered the destruction of an evacuation ship of civilians and soldiers, claiming it needed to be destroyed in case a single scholar managed to sneak on board (an action that horrified even 
Spandine
)
Height:Unknown
Weight:Unknown
Navy Rank:Legendary Admiral (Because the other Admiral spots will be filled) 
Do you have Haki?:Yes
Weapon Name:None
Weapon Looks:None
Weapon Abilities:None
Strengths:As a once Fleet Admiral Akainu command over the entire Marine organization, from ordering all soldiers and officers as he sees fit to issuing a 
Buster Call
 on any island he deems to be a threat. His only superiors are the World Government's Commander-in-Chief 
Kong
 and the 
Gorosei
.
Akainu's background, specifically his black-hearted behavior, is renowned, especially among the stronger figures in the New World, striking fear into the hearts of pirates and marines alike. After 
Van Augur
 identified Akainu aboard a marine ship for negotiations, 
Blackbeard
 immediately fled, knowing the consequences of battling against him, even after Blackbeard had gained the powers of the 
Gura Gura no Mi
, and strengthened 
his crew
 with several of 
Impel Down's
 most powerful criminals.
Many high ranking echelons within the 
World Government
 suggested Akainu to become the succeeding fleet admiral over 
Sengoku's
 recommendation for 
Kuzan
, thus further supporting his incredible military might. Furthermore, Jinbe noted the Marines have become a much more powerful organization under Akainu despite the resignations of Garp, Sengoku and Kuzan, indicating great leadership on Akainu's behalf.
He is a very skilled manipulator, using his knowledge of his opponents to deceive them into doing what he wants. He feigned sympathy to 
Squard
, and used his hatred of the late Pirate King to influence him into betraying his loyalty to
Whitebeard
. He also used Ace's devotion to Whitebeard to his advantage, insulting Whitebeard in order to provoke Ace into attacking him and preventing escape and ultimately killing the young pirate by aiming for 
his younger brother
. 
Akainu has an incredible amount of superhuman durability shown by the fact that not even two 
quake-powered blows
at point-blank range from Whitebeard were able to keep him down, the latter of the two was powerful enough to split Marineford in two, and he was still able to fight the Whitebeard Pirates and two former Shichibukai (Crocodile and Jinbe). He has enormous stamina, being able to fight numerous enemies and being able to keep going without showing any signs of exhaustion.
He was able to easily defeat Jinbe, Emporio Ivankov, and Inazuma. His durability also extends to Haki attacks since it took Whitebeard's own Haki to actually affect him.
He also is shown to possess unimaginable strength, as seen when he stopped Whitebeard's bisento with just one leg. He also has extremely acute hearing, being able to hear activity underwater, before the Whitebeard War began. Furthermore, he was the one who emerged victorious from the ten day duel between him and 
Aokiji
 for the position of the fleet admiral, even though they both suffered grave injuries.
It was stated that all vice admirals possess 
Haki
,so with two ranks above vice admiral, Akainu can also use this ability.
He was seen using his 
Busoshoku Haki
 to negate Whitebeard's attempt to destroy the execution platform, by creating, with his fellow admirals, a shield combination of their three Haki.
Devil Fruit Abilities:Akainu possesses the 
Magu Magu no Mi
, a 
Logia
-class 
Devil Fruit
 which grants him the ability to transform his body into magma and manipulate it at will. As a Logia, Akainu can let physical attacks pass through him without injury and can only be wounded with the use of 
Haki
, 
Kairoseki
, being caught off guard and his elemental weakness. Apparently, Akainu has found some way to avoid Haki attacks, as he was not visibly harmed even after Marco and Vista sliced him in the neck with Haki infused attacks.
His ability is naturally of a higher order than Ace's 
pyrokinetic abilities
, as the higher heat and smothering abilities of his magma allowed him to successfully harm Ace despite Ace's Logia-defense, and ultimately kill Ace due to this superiority. Akainu's Devil Fruit allows him to take on people like 
Emporio Ivankov
 and 
Jinbe
 with minimal effort. During the decisive ten day battle on Punk Hazard for the position of fleet admiral, Akainu showed the furious power of his Devil Fruit as he changed the weather of one side of Punk Hazard and left it in a blaze.