Name of the ship: Leviathan
Pirate Crew: The Blue Dragon pirates
Appearance of the ship: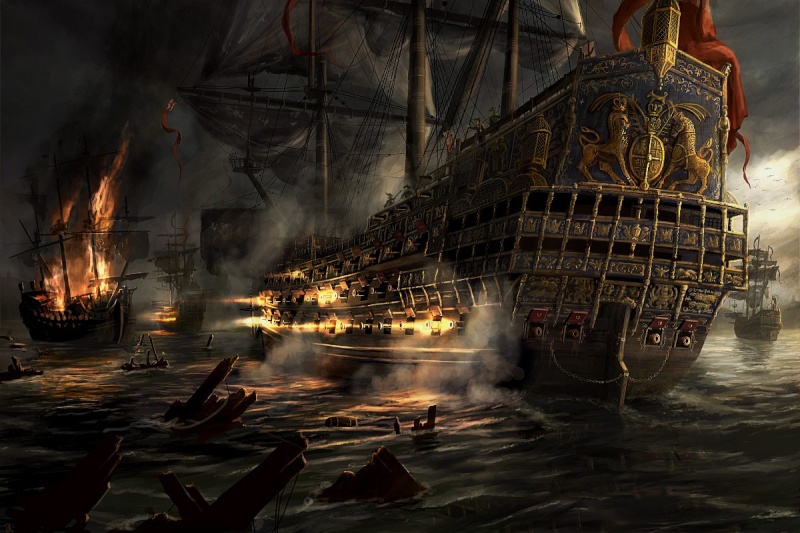 Ship features: The Leviathan has a total of seventy three cannons, thirty four cannons on each side, four cannons on the back and a single massive cannon at the front.
When under attack the Leviathan can raise a bubble like shield around the entire ship, the shield have small pieces of seastone in it cancel out all Devil Fruit powers used on it, with the shield up the Leviathan can still fire it's cannons as normal while it still protects the ship from incoming cannon fire. As powerful as the shield is against ranged attacks it is surprisingly easy to get through if only one comes close to as everyone can just walk through the shield without any problems. The shield itself is generated by a machine which is built into the Leviathan itself meaning that the only way to destroy the shield is to destroy the ship almost completely.
The Leviathan has one hundred rooms. Each member of the crew has their own room with built in bathroom somewhere on the Leviathan which they can use as they wish there are seventy five rooms in total used for this purpose. In front is the library and archive where all the books and documents is stored along with all the navigational charts the navigators uses. Out to the left side of the ship is the workshop where the shipwrights have all their materials and tools it is also the only place that is sound proof on the ship from the terrible noise they make almost night and day. In the middle of the ship is the kitchen and cafeteria where the cooks makes wonderful food to the whole crew every day. Right between the kitchen and the library is the medical part of the ship in here the doctors take care of all sickness and injuries. Out to the right side of the ship is the laboratorie where the scientists makes their inventions and experiments. Also on the right side of the ship but a little away from the laboratorie is where the archaeologists makes their discoveries all ancient texts and books which has not been made copies of yet and put in the library is stored here along with other precious finds. Over on the left side of the ship near the workshop is the practice room the musicians use when they want to work on new songs and tunes. Almost at the rear of the ship is the training area where all the members of the crew come to hone their skills even though it is mostly the fighters and the sharpshooters that is here. And completely at the back of the ship is Pella's room where she almost always can be found. The last fifteen rooms is scattered throughout the ship and is used as storage rooms.