Name:Yamraiha
Age:25
Gender:female
Appearance: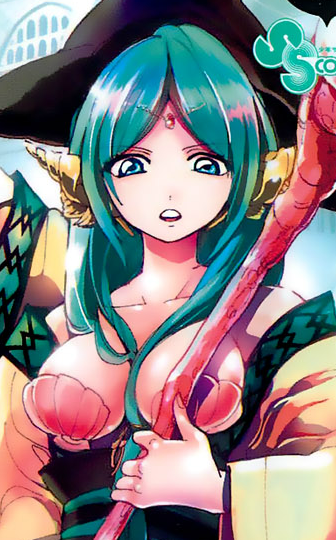 Personality:Yamraiha is a sweet and caring person, but she also has a violent side and a sharp tongue. She can be nice to people she is interested in, and respects Sinbad a great deal. She's confident in her magic skills. She has a fierce rivalry with Sharrkan, since she claims that Magic is better then swordsmanship while he claims the opposite. It seems that she's very shy in front of the person she likes, and she gets very nervous in these occasions.
History:It was said that when Yamraiha was young, she was abandoned by her parents because she was born such a strong Magician, and began to follow a fate made of solitude.In fact, Yamraiha was born to a clan that, for generations, served under Musta'sim Royal Family. However, she was abducted by Matal Mogamett from the Royal Palace and raised by him, since she was on the verge to be killed because she was born Magician. However, he hid the truth from her. Yamraiha became a student of the Magnostadt Academy and spent a lot of time with him, who was the Academy's chancellor. She used to pester him to read difficult books to her about Magic. She thought of him like a father. When she was old enough to understand what was happening around her, she became more and more suspicious and started to be afraid of him, thinking that he wanted to use her in the rebellion as his tool.Sometime in her past, Yamraiha met Sinbad and began to trust him. She ended up leaving Magnostadt to join Sinbad in Sindria.
Birthday(Month and day)
Skills:As a Magician, Yamraiha is very strong. She can use Magoi to fight in battle and specializes in Water Magic, as such she is called a "Blue Magician". She is also the one who is responsible, together with Sinbad, with the creation of two barriers around Sindria it prevents the entry of foes and if once any foe enters, it tracks their location out of the barriers up to a certain distance. Matal Mogamett once mentioned to Aladdin that using this magic will lead her to an early death ("she will die young"), due to the huge strain the vast barriers place on her body.
Strengths:She is the only Magician that has created the only Magoi storage devices in the world. They take the appearance of the shells she usually wears on her ears and chest.When separated from her, they can be used to perform a powerful magic. She also knows enough about magic items to fix Aladdin's Magic Turban when it was ripped to shreds. She has also created many magic tools while she was still attending the Magnostadt Academy. One of these tools is the Eye of the Rukh.
Magic:
Eye of the Rukh
It is a communication tool that allows Magicians to talk over a long range (this depends on their amount of Magoi, making it ideal for a Magi). Because of its long range Clairvoyance Magic, it is possible to use the Rukh scattered in the atmosphere as a intermediary and to transmit information.
Wand
Yamraiha usually carries and uses a long wand, with a twirl pattern at the tip about half her size. She uses her wand to fly, by sitting on it like a witch.
Water Magic
Yamraiha can use her Water Magic in various ways. She can evaporate the water in the immediate vicinity to burn the target (this is not very powerful however). Her favored type of combat is to create water balls around herself to attack and defend her from an enemy.
Sharrar Magd (Water Membrane of the Hermit)
Yamraiha gives Rukh 3 commands, by surrounding herself with water in order to reflect sunlight off of it to make her invisible.
Sharrar Baraq
Yamraiha makes a dragon made of water that attacks an opponent directly, with it's great speed.
Sharrar Raqesa (Water People Play of Truth)
This is a type of Clairvoyance Magic that makes the Rukh show things that cannot be seen, faraway places, and events of the past. It uses the blood of the people involved to show their Rukh. When this magic is used water is shaped into the people involved and acts out what ever situation that is being discussed.
Gravity Magic
She uses Gravity Magic on her wand to fly. She sits upon it like a witch.