Name:Alibaba Saluja
Age:19
Gender:male
Appearance:

Personality:nitially, Alibaba was shown as being very cunning and petty, but since childhood he has always tried his best to do honest work. He would respect wealthy merchants and do his best to please them, often with flattering sophistry and laughing when they call him trash. Originally, he also tried to be friends with Aladdin for his strength.
Like Aladdin, he likes beautiful, busty women and they usually go clubbing whenever they can (except he appears to have very bad luck in there, always getting a rather ugly-looking lady who claims to be the most beautiful in the club). However, it was shown that he was actually very kind, caring and helpful. Due to having a high class education since he was young, he is also very skilled in negotiations and much more intelligent than he appears. He has no patience for those who wallow in their power at the expense of others suffering. At the same time, he can be a rather oblivious person, as he naively trusts Sinbad.
History:When Alibaba was younger, he lived in the slums of Balbadd with his mom, Anise. One day his mother saw Kassim and his sister being beaten by their father, so she went over to save them and took them in as a member of her family. One day, Alibaba's mother succumbed to an illness and died. At that point Kassim took on the role of taking care of them. Even though it was hard for them, they combined their strength to help each other, and were helped by Anise's customers and neighbors as well. In contrary to Kassim, Alibaba tried to live his life as honestly as possible.[1]
Ali's Family
Anise takes Kassim and Mariam in
After a few days the King of Balbadd came to the slums and told Alibaba that he was his son and the he will live in the palace. He had a difficult life from that point on because he was a brat from the slums. The Princes saw him as trash and even the King, the person who brought him, in ignored him when in the palace. He was lonely and had to go through intense daily training. He was taught everything from how he walks, speaks and eats, to sword fighting, economics, math, and philosophy. Eventually, thanks to his hard work, some of people started speaking to him properly and he even became close with one of his half-brothers, Sahbmad.[2]
One night, years later, Alibaba snuck out of the palace to have a look at the slums. What he found there was nothing, no trace of junkyard street or people. As he was about to go back to the palace, he ran into Kassim.[3] Alibaba was happy and felt nostalgic talking to Kassim after all those years. Kassim invited him on a drink and he accepted. While drinking, he noticed the level of respect Kassim had with all the adults, and how each were bowing to him. During the talk, Alibaba got drunk and told Kassim how he was able to escape from the castle. He ended up giving away a very important weakness of the palace, even though he hasn't told him the most crucial part, i.e. location. On the way back to the palace, Alibaba was trailed by someone Kassim had paid. After that, Alibaba went back to living in the palace.[4]
Young Alibaba
After sometime had passed, the King came down with a deadly chronic disease. Before the king died, he told Alibaba that he would like to leave the kingdom to him. Alibaba asked about his mother and was told of how the King loved his mom. This put Alibaba at ease. He decided to refuse the King's request for him to be king, saying that it was not his place and that the two Princes should be the one to handle their country. However, he decided to devote himself to Balbadd. That night, he saw Kassim again, inside the walls of the palace. Before Alibaba realized it, he was surrounded by members of Kassim's group from the slums. They started attacking and stealing from the palace. While Alibaba was frozen, one of Kassim's subordinates noticed him. He told Kassim and Kassim said to just knock him out. Alibaba could only feel the heat of the flame that engulfed the palace.[5] The next morning, the King had passed away. Because of his feelings of guilt and fear, he escaped Balbadd that same day. From that point, he traveled until he ran into Aladdin
Birthday(Month and day)
Skills:Alibaba is an extremely strong and talented swordsman. At a very young age, Alibaba was trained in Royal Swordplay. He has also learned other sword styles from Sharrkan making him a more rounded swordsman. He was able to copy the exact moves Sharrkan did on him, to Toto. After his training in Reim, he was able to fight and wound Reim's strongest swordsman, Muu Alexius, showing his vast improvement of skill
Strengths:Alibaba was given a high level of education possible in the Royal Palace of Balbadd after the king adopted him. He knows difficult languages like Torran Language and possesses high knowledge.
Weakness:
Djinn information
Djinn name:Amon
Djinn Appearance: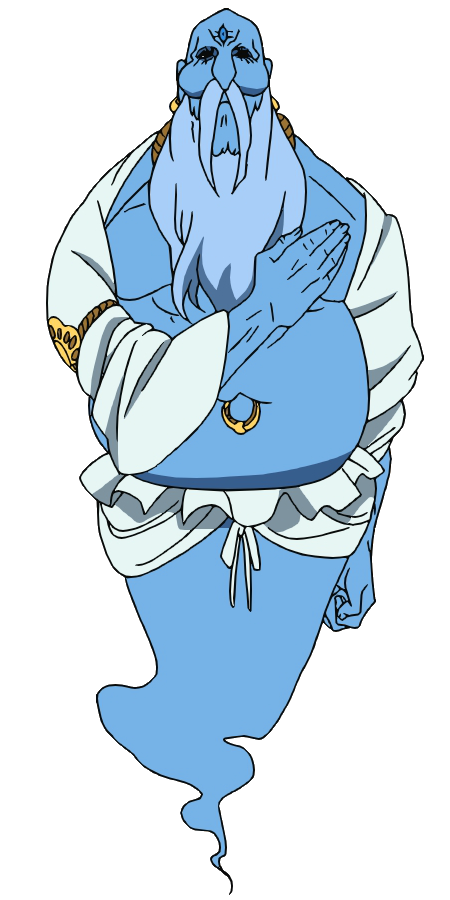 Djinn Personality:
Amon is usually stern and dignified, giving the impression of being a wise man. However, he is also intensely jealous as when he was depressed at Alibaba entering the dungeon Zagan. He believed Alibaba was looking to acquire another Djinn, but Amon reminded Alibaba that he was only capable of handling one.
Metal Vessel Seal appearance: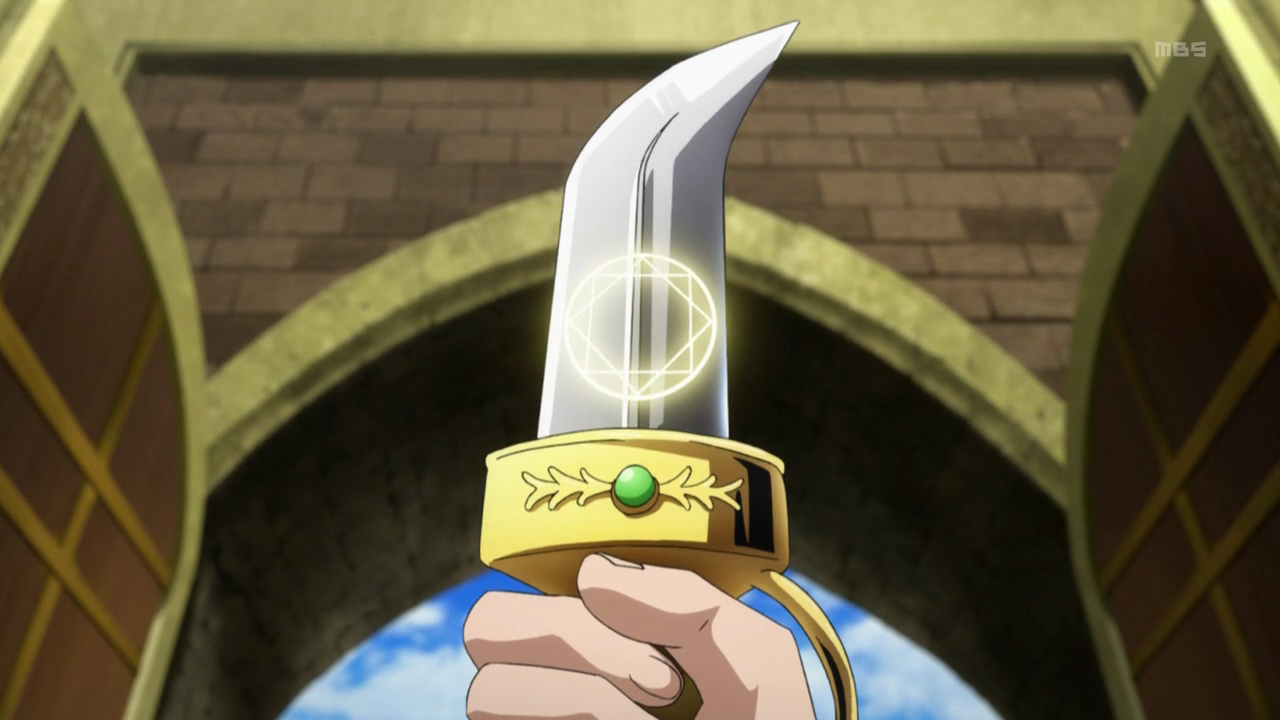 Djinn Equip:
Djinn Equip abilities:Amon is a Fire Djinn that Alibaba received after he captured the Seventh Dungeon, Amon, along with Aladdin and Morgiana. Amon is the Djinn of the Stern and Dignified Spirits of Etiquette In both forms, the sword is completely immune to any type of fire or heat. If it is attacked by it, it will completely absorb it and strengthen itself.
Djinn Equip full body appearance: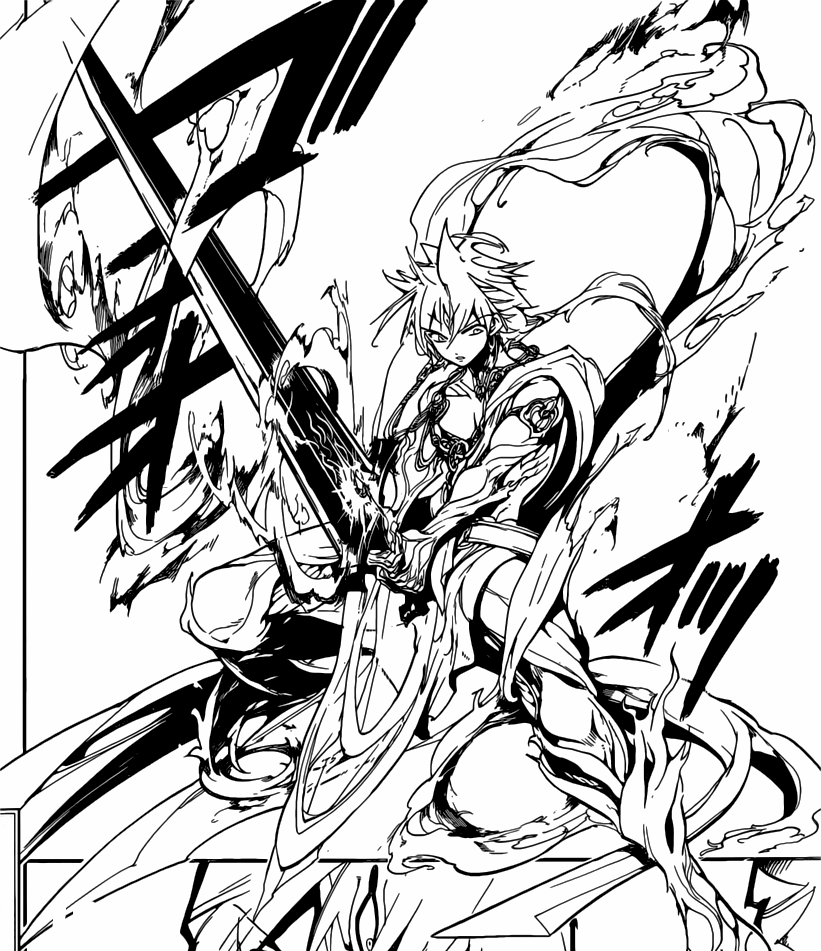 Djinn Equip full body abilities:Alibaba has mastered the ability to Djinn Equip. In his full Djinn Equip Alibaba has flame-like protrusions from his arms and legs, a third eye on his forehead and a naval piercing. While in this mode, Alibaba becomes very powerful, able to cut down three Black Djinn in one slash.Amon's Royal Sword
Alibaba has also learned the second method of Djinn Weapon Equip where the weapon retains it's original shape using less Magoi and allows him to better use his sword skills and Amon's flame abilities. In this form his attack range is slightly larger so if his sword doesn't hit the opponent the heat produced around the sword is able to slice and enhance the range of the attack.