Name: Zabuza Momochi
Nickname: The Demon Zabuza / Demon Of The Hidden Mist
Gender: Male
Age: 26
Appearance:
Spoiler:
Personality: Zabuza was initially portrayed as aggressive, arrogant, cruel, cold and ambitious and willing to become a thug just to fund his evil ambitions.
History: In the past, Kirigakure had the practice of pitting Ninja Academy graduates against each other in a battle to the death for a final exam. After Zabuza, not yet a student himself, killed all one hundred of that year's students, the practice was discontinued. Zabuza would thereafter be known as the "Demon of the Hidden Mist". His fame grew over the years, as he became both an Anbu and a member of the Seven Ninja Swordsmen of the Mist. He also killed the Konohagakure ninja Kumade Toriichi. At some point he discovered Haku, a child with a special kekkei genkai and began training him to be the ultimate weapon. In time he attempted to kill the Mizukage in a failed coup d'état, and subsequently fled with Haku and some other followers, such as the Demon Brothers.
Ninja Village: Kirigakure (Hidden Mist Village)
Rank: Anbu / Missing-Nin
Number of mission taken: N/A
Number of mission finished: N/A
Weapon Name: Kubikiribōchō (Decapitating Carving Knife)
Weapon Looks: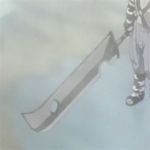 Weapon Command: none
Race: Human
Strenghts: N/A
weakness: N/A
Element: Suiton
Fighting stlye: Agressive, Silent, and at times, Brutal.
Other Things: N/A