Name: Lucy Heartfilia
Alias: Maniac Queen,Princess,Lucky Lucy ,Lu-chan ,Luigi
Gender: Female
Age: 18
Birthday: July 1, X767
Appearance: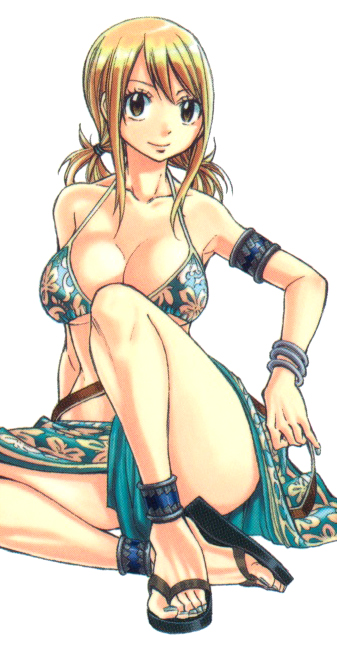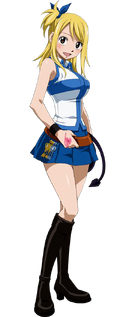 Lucy possesses brown eyes, blond hair that is usually tied by a varying colored ribbon in a singular bunch to the right side of her head and like most of the female characters, she has extremely large breasts
Height: none
Weight: none
Sexuality: Straight
Personality: Lucy is one of the saner and more stable, if not the only one, member of Fairy Tail, having common sense that other members of the guild seem to lack. She consistently points out and laments over Natsu's and the others' idiocy. Lucy is also very confident in her appearance and sexiness, excluding a certain amount of vanity. Despite this superficial attitude, Lucy is passionate for literature and is in the process of writing her own novel about her adventures with Fairy Tail. She is a member of the Heartfilia family, one of the wealthiest and most influential conglomerate families in the country of Fiore. However, due to her estranged relationship with her father and the death of her mother, Layla Heartfilia, she left home to follow her own path.
...as for her team mates...not always.
Added by Ishthak
Out of all the Celestial Spirit mages revealed so far, Lucy is the only one who treats her spirits kindly. She doesn't use them as shields, she fights alongside them, and treats the spirits as people while others treat them as tools and objects. She will also go to great lengths to give them happiness even if it costs her life. Even though she is technically the owner of her spirits, she denies being called that and instead calls herself their friend.
It should also be noted that she was the only other person who had ever shut Natsu Dragneel and Gray Fullbuster up without beating them. Natsu and Gray have seemed a little scared of her when she's under the weather, even if Lucy's magic is not as strong as theirs and can't force them into submission like Erza Scarlet. Lucy is also quite athletic.
Her dream is to write and publish a book about all the adventures she's
Relationships: If your character is some how connected to another character. Tell us about it.If not, leave blank. If your character has more then one relationship you should right them like this
Respect- 0100
Friendship - 0/100
Attraction - 0/100
Trust - 0/100
Status - (like friend.rival,lover)
Info - (Tell how you met them or)
Likes:Magazines,Sweets,and her friends
Dislikes:when people hurt her friends
GUILD
Guild: fairy tail
Guild Tattoo: on her hand
Rank: S rank
MAGIC AND ABILITIES
Name Magic: Celestial Magic, Star Dress
Magic:Lucy practices Celestial Spirit magic, a skill which allows her to summon Spirits from another world or the Celestial World using Keys of the Gates. Her Celestial Spirits have varying levels of power, with different ones suited for different tasks. For example, Aquarius can control water, while Taurus has enormous strength. Lucy explains to Natsu that Celestial Spirit mages have the potential to obtain extremely rare Gold Keys, which open the gates of the "Ecliptic Zodiac", and common, store-bought Silver Keys. Each Gold Key has the Zodiac symbol of the one it is used to summon on it. According to Lucy, while there are large number of Silver Keys, there are only 12 Gold Keys. Thus far in the series, Lucy has obtained 9 Gold Keys and 4 Silver Keys.
Lucy's ability to summon her Spirits is limited by how much magic she has to sustain them; if she summons more Spirits, more of her magic is exhausted. She has demonstrated so far that she is able to use four of her strongest Ecliptic Keys in one day, within a short time period (as seen in the Oración Seis arc where she summons Sagittarius, Aquarius, Loke, and Taurus one after another) before her magic completely exhausted.
Celestial Spirit Magic spell in which Lucy incorporates the power of a Celestial Spirit into her body by placing the key of the Spirit in question on her chest. The power manifests itself in the form of a wardrobe change (similar to Requip), in this case in the form of a dress centered around the Spirit in question's own wardrobe
Magic Seal: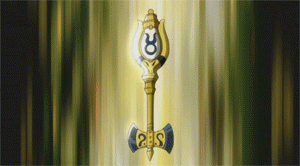 BACKGROUND
History: Lucy was originally born into the extremely wealthy Heartfilia family. Her father and mother were originally part of a merchants' guild called 'Love & Lucky' where they two met and decided to become independent when Lucy's mother, Layla, became pregnant. They chose her name when they noticed that the sign for the guild had the letter K missing so that it read 'Love & Lucy'; it made an impression on them so they decided to name their daughter after it.[4] In her home, Lucy kept a good relation with the staff in the estate and presumably her mother until she passed away when Lucy was around the age of ten[5] on July 07, X777; the same day that the dragons looking after Natsu, Wendy and Gajeel Redfox disappeared. However, her father was overly obsessed with his business and money, often neglecting his daughter, resulting her to run away from home just over a year before the beginning of the story.[6] And that's the story