Name : Kishi Koneko
Nickname:Summons Killer
Gender : Female
Age :25
Appearance :[img]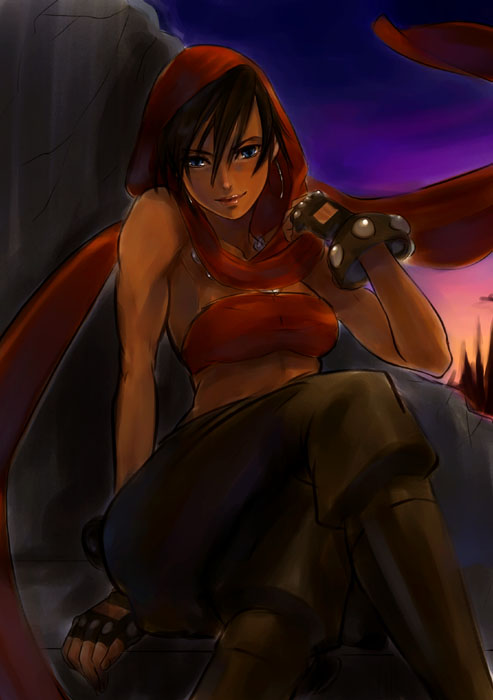 [/img]
Personality :Kishi is completely focused in battle and doesn't seem to get along with people she doesn't know. In combat she has shown hints of homicidal rage. Kishi becomes relentless when attacking her foes, not backing down until they are all dead. This makes her appear more like a "Berserker" in battle than a warrior. However, this is merely a facade. Kishi is actually quite deliberate in her seeming combat psychosis. She uses her enemies fear at her supposed beserker rage or their assumption of her vulnerable state of mind to gain tactical advantage and create openings to savage her opponents. Her cunning in battle has become legendary much to her chagrin. She is not able to sucker opponents who know her as easily as she once was. Beneath the surface she's a very loving person, thought she rarely shows, seeing such tender expressions as a sign of weakness.
History :Kishi history is a unknown story to everybody.
Clan:Koneko
Ninja Village:Kumogakure
Rank:Jounin
Number of mission taken:Unknown
Number of mission finished:Unknown
S rank missions:Unknown
A rank missions:Unknown
B rank missions:Unknown
C rank missions:Unknown
D rank missions:Unknown
Weapon Name:Splash
Weapon Looks:
Weapon Command :none
Race:Human
Strenghts:Described as a "sixth sense,"Kishi five senses are heightened to the point where she can fight instinctively in total darkness, track opponents, and determine their strength without having to sense their chakra. This ability also allows her to hide her chakra from sensors such as the legendary 2nd Tsuchikage, Mu. Unlike many other shinobi with chakra-suppression abilities. Kishi has the strength to fight summons without the aid of her mace or releasing chakra. She has demonstrated this feat against multiple summons, tearing a large group of average sized summons to pieces, and even combatting against Gamabunta sized summons. Through much training Kishi gain speed that rivals her Raikage and fighting power to match, without a doubt in the world Kishi is the second fastest ninja in Kumogakre and her skill in taijutsu only makes her a force to be feared even more.
Element:Lightning
Fighting stlye:Taijustu.
Other Things:Kishi is one of older Jounin in the village