Name: Cana Alberona
Alias: none
Gender: Female
Age: 18
Birthday: Uknown
Appearance: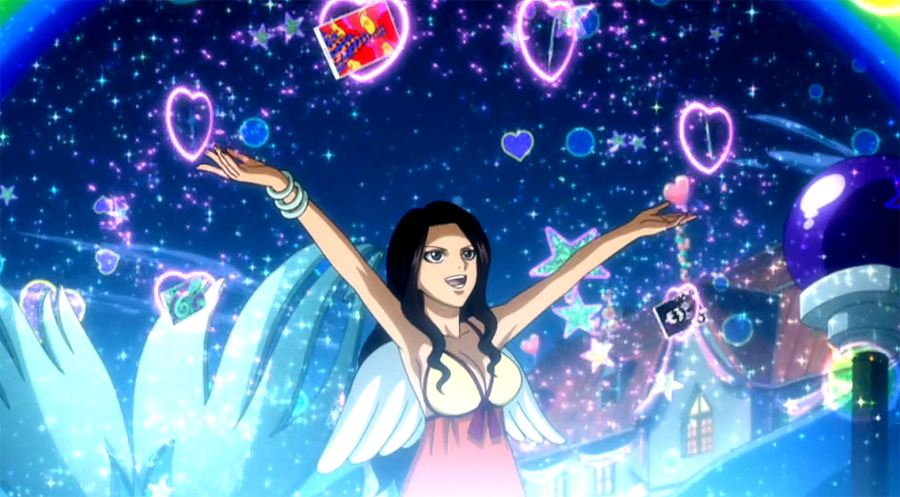 Height: Uknown
Weight: Uknown
Sexuality: Straight,
Personality: Cana has a great love, bordering on addiction, for alcoholic drinks, so much that she is often seen drinking directly from a large beer barrel. She started drinking from the age of thirteen, two years before the legal age, and her drinking amount has grown to the point that thirty percent of Fairy Tail's liquor budget goes down her throat.
One of the more serious members of the guild, she hardly ever goofs off (except via the aforementioned drinking) like other members. She seems to harbor some romantic feelings for Macao Conbolt, her drinking buddy, as when he suggested she cut down a bit she did so. But when she discovered he had a new girlfriend she redoubled her drinking.
In the guild itself, Cana often assumes leadership positions in a pinch, such as in the fight against the Phantom Lord Guild, and assesses situations in a logical manner. She is extremely loyal to the guild and its members, no matter how new they are or whatever their personal history is. Cana's loyalty towards her fellow guild members is shown when she attacks Fried Justine with fury when he forced Juvia Loxar to render herself unconscious and derided her as "the Phantom girl". In addition, Cana always stands up for her dreams (to become an S Class mage) and never goes down without a fight, as shown when she attacks Fried (despite not being able to defeat him in the past) without hesitation during their S Class Qualification Exam fight.
Relationships: If your character is some how connected to another character. Tell us about it.If not, leave blank. If your character has more then one relationship you should right them like this
Respect- 0100
Friendship - 0/100
Attraction - 0/100
Trust - 0/100
Status - (like friend.rival,lover)
Info - (Tell how you met them or)
GUILD
Guild: Fairy Tail
Guild Tattoo: lower left part of her abdomen
Rank: A maybe S
MAGIC AND ABILITIES
Name Magic: Magic Card,Fairy Glitter
Magic: Cana uses magical playing cards in battle for a variety of purposes. From simply throwing them like shuriken to expertly combining them to create different attacks (which may include materializing the images on her cards into corporeal states), Cana's magic makes her an efficient, all-purpose fighter. She can also use her cards to track people down, but with varying results. Her magic also may allow her to predict someone's fortunes as well,
Fairy Glitter:A magic that rivals Fairy Law and is a Radiance of merciless light that rejects the presence of any foes. It is also an exceedingly complex and unfathomable intricate spell that collects and concentrates the light of the sun, the moon and the stars.[3
Magic Seal: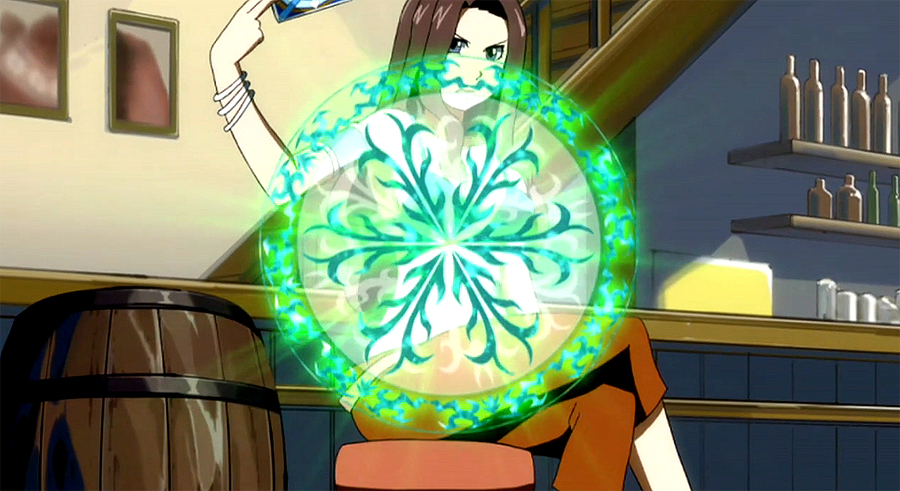 BACKGROUND
History: Cana has been in Fairy for twelve years, often socializing with a young Gray Fullbuster, and having joined the guild before Natsu Dragneel or Erza Scarlet had joined. Lucy notes that among the guild members in their age group, Cana is the eldest and the most senior member of Fairy Tail.As a very young girl, Cana came to Fairy Tail after the death of her mother to find her father, Gildarts Clive, who was a member of Fairy Tail. Though her mother had left Cana in the custody of Gildarts, he was unaware that he had a daughter and Cana became too intimidated to tell him that she was her daughter when she learned how great a mage he was. Gildarts gave her little to no attention, even the brief times he was at the guild, and Cana joined the guild in hopes of some day working up the nerve to tell him that he was her father. However, as time went on, it became more difficult for Cana and she eventually decided that she would tell Gildarts the truth, when she was able to achieve the rank of S-Class.However, despite having the potential to become an S-class mage, she began to despair after failing the exam six times, surpassed even by Erza and Mirajane, both who had joined the guild after her.